Top international authority on colour trend forecasting Pantone have recently announced what we, designers in the wedding industry, await every year in great anticipation – the colour of the year! While we are still totally in love with the 2017 colour of the year Greenery, which is the ideal shade for the natural, minimalist, organic wedding we have witnessed a lot this past year, we can't help but swoon over the mysterious and electrifying 2018 colour of year Ultra Violet. Pantone describe the colour as "a dramatically provocative and thoughtful purple shade" that "communicates originality, ingenuity, and visionary thinking that points us toward the future".
To us, the colour is the perfect colour for the modern couple – sophisticated, progressive, passionate and intriguing, with both feminine and masculine qualities. Here are a few ideas on how to incorporate Ultra Violet into your wedding. We can't wait to see how many of our clients this year opt to include this super sexy purple shade into their wedding colour scheme!
1. The Linens
One of the most effective ways of adding a bit of pizazz to your wedding reception is to invest in some good quality, glamorous linens.  Sequins are still very much on trend in 2018, and who doesn't just love a bit of sparkle? Why not use an Ultra Violet sequin table cloth to accentuate that delicious cake or guest book display table you're having? Another way of injecting Ultra Violet into your wedding is to style your tables with napkins in that gorgeous purple shade. Speak to your local linen hire company and ask if they have any suggestions for your chosen colour palette.
Purple Sequin Tablecloth | Buy: Etsy
2. The Lighting
Have you already planned and designed most of your wedding but still don't want to miss out on the new hot Ultra Violet trend? Or maybe you can't find the perfect shade of purple tablecloth or napkin? Ask your lighting provider or venue if it's possible to fill the reception space with some ambient Ultra Violet purple lighting. Many couples underestimate the importance of lighting, cutting it to the minimum within their budget or forgoing it entirely. As strange as it may appear to some, however, lighting can make the biggest difference and have the greatest impact in the overall look of your venue. It can completely transform a simple, unexciting space into a romantic, atmospheric locale. With a few skillful lighting techniques, your standard banquet hall can instead become a trendy club or intimate hang out spot.
Photo Credit: Unknown | Source:  WeddCeremony
Photo Credit: Harriette Rose Katz  | Source: Bridal Guide
3. The Flowers
Our favourite part of all weddings! We absolutely adore Ultra Violet in a floral arrangement. Combined with shades of blush pink, magenta or fuchsia with touches of powder blue and lilac, it creates an incredibly dramatic and breathtakingly romantic effect. Consider using purple/violet shades of hydrangeas, tulips, sweet pea, anemone, parrot tulips, calla lilies or peonies to look for that Ultra Violet shade.
Photo Credit: Unknown | Source: I take you
Photo Credit: Unknown | Source: Wedding Guide US
4. The Drinks
Tired of the same boring fizz at every wedding? Try adding a little bit of raspberry syrup into you sparkling wine to turn it into that sexy Ultra Violet colour. Alternatively, pop a stick of purple rock candy into each glass of Prosecco and add a bit of Viniq Shimmery Liqueur into the mix to add some shimmer. Guaranteed to get your guests talking!
Photo Credit: Unknown | Source: Sandals Wedding Blog
5. The Bridesmaids' Dresses
What better way to make a fashion statement with your bridesmaid's outfits than to go for the colour of the year? Ultraviolet is one of those colours that looks great on any body type, skin or hair colour! It suits both a formal and casual setting and goes perfectly with both silver and gold jewellery.  What's not to love?!
Photo Credit: The Youngrens | Source: MOD Wedding
6. The Shoes
Looking to accessorise with Ultra Violet? Always start with the shoes! We're currently lusting after these fabulous Gucci Caspar satin and leather courts. For a more minimalist option, check out these Cassedy suede courts by Aldo.
Caspar satin and leather courts by Gucci  | Buy: Selfridges
Cassedy suede court by Aldo | Buy: Selfridges
7. The Stationery
Light gray, sky blue, turquoise and Ultra Violet – what a great colour scheme! We think these invitations look pretty dreamy and are ideal for a whimsical, ethereal fantasy themed wedding. We recommend using some silk ribbon to give your stationery that extra luxe feel.
Blue & Purple Watercolour Invitations by FoxesonBoxes | Buy: Etsy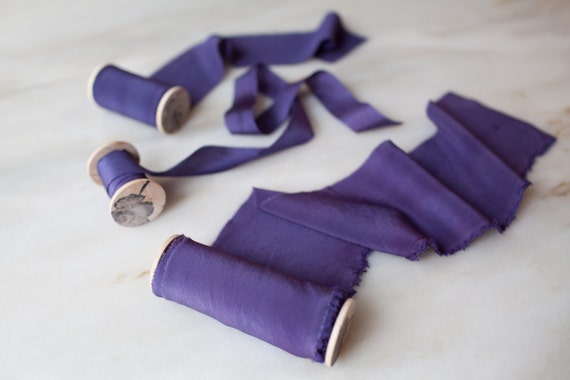 Deep purple silk ribbon by NettleTextiles | Buy: Etsy
8. The Cake
Who wants cake?! No guest would be able to say no to this stunning purple, lilac and silver cake. We can imagine this cake being served at a Winter Magical Wonderland themed wedding. For a more formal affair we'd go for the option below – Ultra Violet and gold paired with beautiful and feminine fuchsia roses. It practically screams luxury and elegance and has that oriental feel that we just love.
Photo Credit: Shazdeh Cakes | Source: Instagram
Photo Credit: Arosi Decor| Source: Instagram
9. The Jewellery
Diamonds are a girl's best friend… but so are amethysts! If you're looking for alternative to diamond jewellery, we think amethysts are an incredibly classy choice. This 18 karat yellow gold Dior Oui Ring is the pinnacle of luxury minimalism. If you're throwing an Ultra Violet wedding, why not complete your bridal look with these stunning Tiffany & Co Yard Earrings? They also make a wonderful thank you gift for your mum, mother-in-law or bridesmaids.
Oui Ring 18K yellow gold and amethyst by Dior  | Buy: Dior
Color by the Yard Earrings by Tiffany & Co. | Buy: Tiffany & Co.
10. The Favours
The biggest 2018 trend when it comes to dessert tables? Donuts! We believe that food makes some of the best favours and these super cute violet iced donuts are pleasing to the eye as well as your taste buds.
Photo Credit: Mélanie Aubin | Source: Instagram
xoxo Marika
Follow us on Pinterest for more wedding planning and design inspiration